Ed Markey vs. Joe Kennedy FEC Postmortem
Hello, welcome to The Aggregate, the newsletter on the in depth analysis on topical yet unusual datasets and technical topics. If you want to sign up, a button to do that is below, or just read on!
---
The Weekly Data:
The Ed Markey versus Joe Kennedy III race in Massachusetts was an interesting race to watch, as Ed Markey managed to surprise quite a few people by keeping his seat. Before I get to the data analysis, I just want to highlight his unusual campaign strategy.
While Ed Markey was nominally on the left-wing side of the Democratic party, this race pushed him to lean more into that aspect, which entailed a large amount of youth outreach. For example, I am pretty sure Ed Markey's campaign is the first one to ever have a lo-fi beats video associated with it.
Or a series of rather odd Tik Tok's on his various policy positions, like the Green New Deal.
https://www.tiktok.com/@ed_markey/video/6854190801724001542
Substack doesn't support embedding tik tok's interestingly enough.
Tik Tok's and lofi-beats don't make up a campaign however. Beyond an analysis of Senator Markey's interesting digital campaign strategy, diving into the FEC data for Markey and Kennedy reveals some unusual trends about who voted for what candidate.
Note, due to how FEC data is reported, the latest day for donation data was August 12th, 2020. 
To start, while it may seem like common sense in hindsight, most donations during a given month happen at the end of the month, with donations rising as the actual election gets closer. This causes funding issues as money gets donated at a less useful point, the end of the campaign.
Ed Markey's donations follow this pattern unsurprisingly.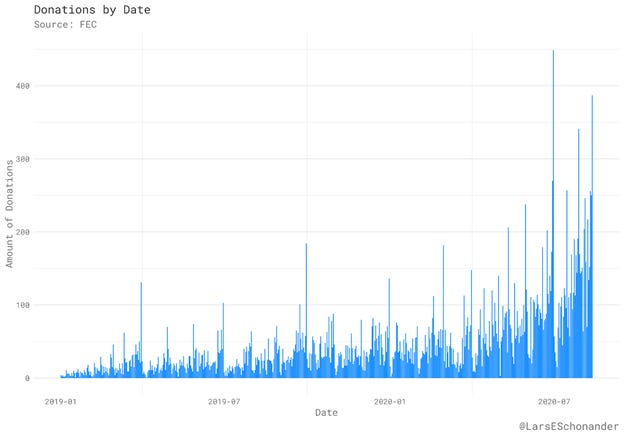 Next are the top ten cities by total donations, with an explanation on some patterns below, for example, on which cities went for Kennedy or Markey, and how large was the gap between the two.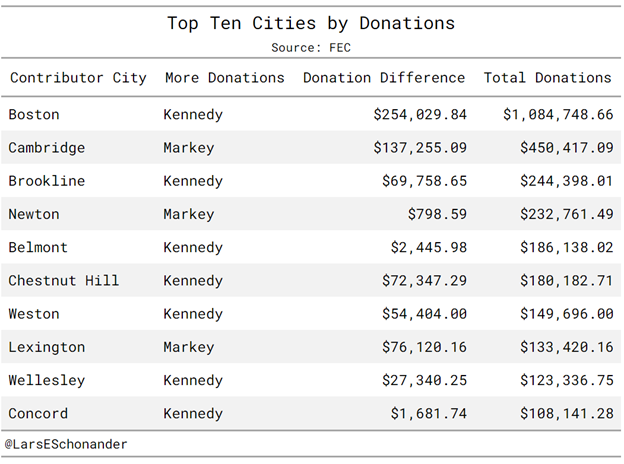 The top ten cities by donations are interesting because while 7/10 of them went to Kennedy, with the mean dollar difference in donations was $69618. Interestingly when comparing the two are the city level, the difference between Markey and Kennedy when it came to a city Markey had more donors for was $5376 dollars, and he had 46 more donors on average compared to Kennedy.
Additionally, Markey still got more donors overall on the city level. Out of the 397 cities in the combined Markey/Kennedy FEC dataset, Ed Markey got more donations in 333 cities, or 83%.
It is easier to see this trend play out on the level of postcodes versus cities. As seen below, the majority of postcodes went for Ed Markey. To be exact, out of the 586 total postcodes in the FEC dataset for Massachusetts, Markey had more donors in 374 of them, or 63% of all postcodes. In fact, more states either had no leading donors then providing more donors for Kennedy, as no donors was 129 while the amount of postcodes who had more donors go for Kennedy was 83, or .14%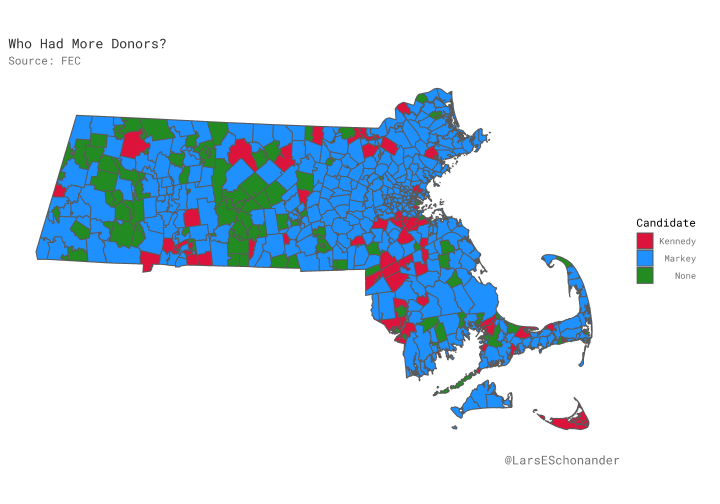 ---
Now, some links…
---
Once, small firms centred on inventors were responsible for most of our innovation. Larger firms might buy or exploit these steps forwards, but they did not typically make them. And then for a brief period, this changed: many of the best new products, tools, and ideas came from research labs within large corporations. This brief period also happened to be the era when scientific, technological, and economic productivity sped forward at its fastest ever clip. Yet almost as soon as it arrived, the fruitful period was over and we returned to a situation where small companies and small-business-like teams at universities developed innovations outside of large companies and sold them in a market for ideas. Though we might enjoy the innovation created by small flexible firms, we should not dismiss the contributions made by large corporate labs. The corporate lab may be creeping back, but aggressively prosecuting antitrust against large firms growing organically through in-house research could easily snuff this spark out.
API contracts are essentially set in stone, and adding, changing, or iterating on them is often cumbersome and difficult. API change processes themselves can be frustrating and slow, and mistakes can be extremely costly. But as a product's functionality grows, so should its API—so having well-defined and well-working change processes is vital to a business.

Two years ago, the internal API review and development process at PagerDuty left much to be desired. A former employee had laid a great foundation, but participation had waned. By late 2018, our internal advisory group, the API Guild, hadn't met for months. Moreover, we hadn't published any new publicly available API endpoints in more than a year.

In this article, I'll share how we kick-started PagerDuty's API development with little new software development and some simple process changes. While this initiative started as a joint effort between me, the engineering manager of PagerDuty's developer ecosystem, and the team's product manager, it quickly became a broader collaborative effort.
Eric Levitz has a thought provoking interview with David Shor up over at New York Magazine. Shor is a electoral whiz kid who seems to have been making waves in the world of liberal polling for some years, but only came to national prominence a few months ago when he was fired from his gig at Civis Analytics for tweeting that non-violent protests were more likely to shift American public opinion leftward than riots.

I don't share Shor's politics, but in this interview the whiz lives up to his reputation. His take on political behavior is fascinating. The general mode of analysis he lays out has applications that extend far beyond the topics covered in the interview. A good place to start is with his understanding of the non-partisan voter:

 But wait, readers of the Stage might ask, how does this square with the pattern of politics I have discussed in posts like "Public Opinion in Authoritarian States," "Reason is For Stabbing," and "Chinese Are Partisan Too?" Those essays describe public opinion as a creature of coalition instincts; where coalition leaders go, opinion soon follows. Shor instead talks about public opinion as a more immutable thing that American electioneers can appeal to but cannot change.
The coronavirus outbreak has pushed millions of Americans, especially young adults, to move in with family members. The share of 18- to 29-year-olds living with their parents has become a majority since U.S. coronavirus cases began spreading early this year, surpassing the previous peak during the Great Depression era.

In July, 52% of young adults resided with one or both of their parents, up from 47% in February, according to a new Pew Research Center analysis of monthly Census Bureau data. The number living with parents grew to 26.6 million, an increase of 2.6 million from February. The number and share of young adults living with their parents grew across the board for all major racial and ethnic groups, men and women, and metropolitan and rural residents, as well as in all four main census regions. Growth was sharpest for the youngest adults (ages 18 to 24) and for White young adults.
I'm excited (and slightly terrified) to announce that Jane Street is releasing a new podcast, called Signals and Threads, and I'm going to be the host.

The idea for the podcast came up as we were discussing what would become of our public tech talk series and our on-campus talks in an era where in-person talks are not so easy to arrange. It occurred to us that a podcast might be a fun alternative.

And it has been fun! More fun than I expected, really. The structure of the podcast is simple enough: each episode is a conversation between me and a different one of Jane Street's engineers, diving deep into that person's expertise. The topics are varied; language design, clock synchronization, the role of IP multicast in markets, the ups and downs of reconfigurable hardware, and so on.

Our initial thought was that this would be a good way of communicating with potential recruits (you do know a big part of why we do all these tech talks is to hire great people, right?), but as we got into the process, we came to realize that these were conversations that would interest the people here at Jane Street as well, and we're hoping this ends up being useful for both internal and external audiences.
---
Miscellany:
For my job at Lincoln Network, I wrote on The Case For Supporting Open Source Infrastructure. We actually have a government office called the Open Technology Fund that does some of this work already, we should expand on it!
Quinn Slobodian's book Globalists is a very good book on the origins of neoliberalism, specifically the Geneva School.
I discovered a long running podcast called The History of Byzantium. As a fan of the Eastern Roman Empire since high school, listening to it is a blast.
A friend of mine, Santi recently wrote a article on the benefits of bring back the Bison. It's a interesting dive to the history and benefits of restoring America's megafauna.
---
Thanks!
Thanks for taking the time to read this, I will be back next soon! In the meantime, you can follow me on Twitter or reach out via email.