The Decline and Fall of Visa Issuances
Hello, welcome to The Aggregate, the newsletter on the in depth analysis on topical yet unusual datasets and technical topics. If you want to sign up, a button to do that is below, or just read on!
A bit of a short one this week, but the past few weeks of work have been busy. At least I learned how to FOIA because of this!
---
The State Department collects Monthly Immigrant Visa Issuance Statistics, either by posting or by place of birth.  This information is meant to help track how many visas of what category were issued per month in a given year. While via py-tabula it given that the PDF's are structured the same it was easy to extract and clean up the data, I discovered after checking the dates that some data is missing: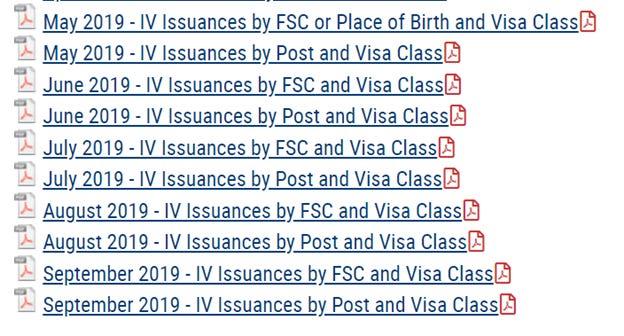 As seen above, there is a four-month period in 2019 where visa data by Place of Birth is not listed on the website. While the data is not actually missing, as I was able to find it and successfully incorporate it into the data I collected earlier, it is strange that I had to search for it instead of the PDF's being directly on the website. It is odd that there is a four-month reporting gap on the website despite the data not actually being missing. I filed a FOIA request to the state department to ask why this data was not directly listed on the website. While it may or may not be an accident, either way, the response should be interesting.
Analysis
While going up in 2018 and then declining after, visa issuance in 2020 because of COVID-19 crashed, and it is unknown when visa issuance will return to normal. For reference, the total amount of visa's issued in 2020 was 107122, or 75% smaller then the amount of vias issued in 2019.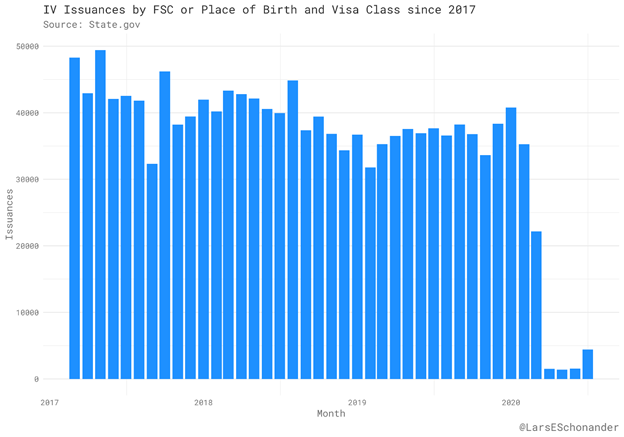 This decline in visa issuance also tracks across all the types of visas that the dataset noted. According to the file on Immigrant Visa Symbols that the State Department has, there are 103 different types of visas just tracked by the State Department alone. In practice, there are 5 categories, employment based, family sponsored, relatives, other limited categories, special immigrants, and a unique category for Vietnam Amerasian Immigrants.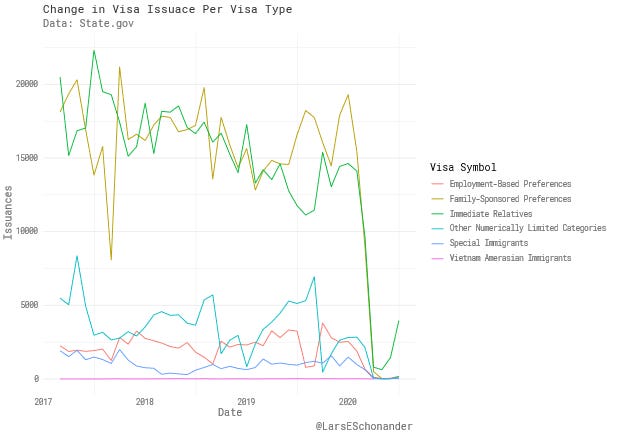 Even before the noticeable decline in all types of visas being issues, the amount of visas being issued per date is also an exercise in learning American immigration policy past 1965. To put it short, America's immigrant policy has far more provisions for uniting family members and relatives with each other versus a system like Canada's, which is predominantly focused on allowing high skilled workers to work in the country.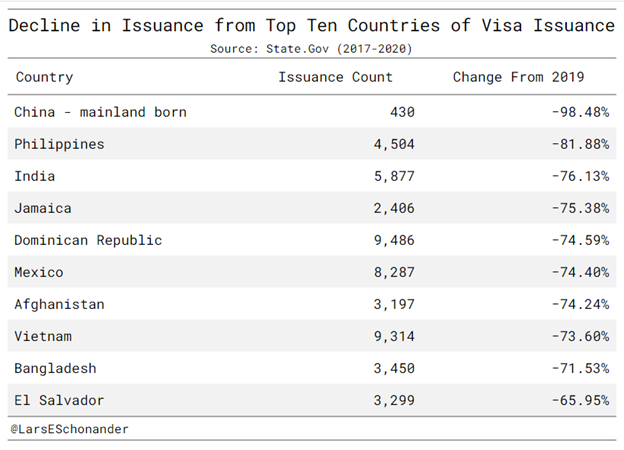 The change in visa issuances has drastically affected the countries that typically migrant here with those visas. Quite a few major sources of immigration have shrunken more then the 75% decline in visas from 2019 to 2020. Visas for mainland China declined by 98.48%, the Philippines declined by 81.88%.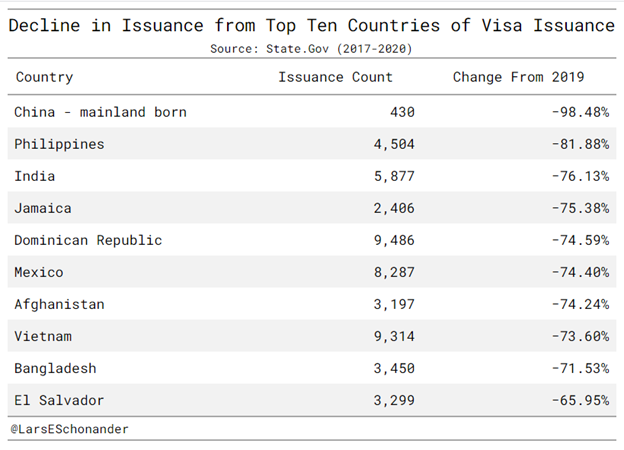 ---
Now, some links…
---
George Orwell once proposed that the specimen literary career takes the form of a parabola in which the downward curve is implied in the upward. You can see immediately how this theory might work with a major-league titan such as Thackeray (promising early sketches leading to Vanity Fair, then downhill to the trackless waste of The Virginians) or James Joyce (peaks in the early stretches of Ulysses before descending to the dream language of Finnegans Wake). But how does it apply to the 71-year-old former enfant terrible and, to borrow another useful French phrase, one-time jeune premier of English fiction, Martin Amis?

A brief sift through the evidence — the two dozen items listed on Inside Story's 'by the same author' page — suggests that, rather than resembling a parabola or even an isosceles triangle, Mart's trajectory is, in fact, a dead-ringer for a toothpick: vertiginous early ascent and short-lived plateauing out, followed by a long, slow slide whose preliminary signs could be glimpsed all of three decades ago. Which is to say that while there are some fine things in London Fields (1989) and The Information (1995), neither of them is a patch on Money (1984).

The same rule applies to the nonfiction. Yes, Visiting Mrs Nabokov (1993) and The War Against Cliché (2001) have their moments, but experienced Mart-fanciers will probably want to take their stand on The Moronic Inferno, published halfway through Reagan's second term with a title abstracted from Saul Bellow.
The internet was much bigger 20 years ago than it is today. Considering how overwhelming and inescapable "being online" has become since, such a claim seems ludicrous on its face. But this is to confuse size with capacity. The internet today is crowded, because it is smaller. It only seems large because the centralizing—or rather, monopolizing—mentality that has taken hold of it lends to it a certain vastness. But it is the vastness of the warehouse store, not of the village in which the older internet took shape. The old internet seemed smaller because we knew less of its scope. It was more closed off. For instance, mass online communication in 2000 was limited to email and AOL Instant Messenger. If you wanted to reach someone on those platforms you needed their address and screen name, which you had to get by asking them personally. If permission to these items was granted to you they felt like precious trinkets, or if you got them secondhand, like valuable intelligence.

This need-to-know basis rule applied well beyond that. Without the simplifications of a YouTube, a Facebook, a Wikipedia, a Reddit, or a Spotify, extra effort was needed to find what you were looking for. For funny videos there was eBaum's World and Homestar Runner. For music there was CD Now and Napster. For time-killing games there was Newgrounds. For trading memes and more niche companionship there was any number of message boards. For information, however, you were on your own. For the naturally curious but also naturally solitary like myself, at once entranced and uneasy about "cyberspace," you had to develop a craft for finding what you wanted to know. Or what you wanted to be.
 I went outside for the first time in a while. The graphics were astounding--arresting, even. Very little pixelation, smooth frame rate on my system, nice solar effects and crisp resolution. The physics engine was quite realistic. No advertisements, pop-ups or in-game microtransactions--at least on the beta I tried. All in all, 9/10, would play again.

  Jail is noisy. That's the worst part. Easily. By far. Of course, I am excluding the COVID-19 fiasco, which is undoubtedly an 8th amendment and human rights violation. I will have more to say on that topic, energy permitting. That minuet aside, the noise is decidedly the worst part. Being forced to listen to the incessant argle-bargle. The characters who propagate said noise are fascinating. 

  There was one guy here, who had to be 70 years old. He has since been released, to the great relief of my rapidly diminishing sanity. He had a stutter, which was certainly no impediment as far as his effort to transmit his errant streams of consciousness was concerned. All he did was yap away near the computers (where I spend most of my time). His voice was very high-pitched, staccato and funny: he was a sort of James Brown/Little Richard hybrid. He pursed and smacked his lips, as older folks tend to do.  He would randomly break into a full split. I have to admit he was quite limber. But, what an anachronism. It took a lot of patience to not say anything. I even wore my ear plugs at the computer and it didn't help. 

  It shouldn't surprise anyone that the boorish denizens of prison fray the most stoic nerves. Particularly nettlesome is the common practice of screaming someone's nickname (in our criminal/correctional subculture, of which I am an unwitting participant, someone's "handle") at the top of your lungs to determine their location. Given we are in a quite confined premises, it beggars belief this approach is tolerated. [Names] redacted to protect the ignorant:
A massive​ pool party was held recently in Wuhan, ground zero of the pandemic, with thousands of people piling into the water without wearing masks or practising social distancing. This outraged many people on Twitter, who didn't know that there have been no new cases of Covid-19 in Wuhan for months. For local people, who experienced the chaotic early weeks of the virus in late January and early February, the respite must seem long overdue.

Restrictions are diminishing everywhere in China. International flights are resuming, and friends who were marooned while visiting the US and Europe are flying back one by one. Plane tickets cost three to five times more than usual for an economy seat, and passengers have to comply with quarantine regulations on arrival: 14 days in a designated hotel, couples in separate rooms, no visitors allowed. They are tested almost every day, and have to put up with the not very desirable food provided – food delivery is out of the question. Afterwards, we throw a nice dinner party to celebrate their return to normal life. It's the most we can hope for in 2020: a normal life. Other friends who are still stuck abroad (unable to get a flight or a visa) are missing a succession of delicacies: the crayfish season, the lychee season, the waxberry season, the durian season, the gordon euryale seed season, the sugar fried chestnut season, the pork mooncake season have all gone by. Will they catch the end of the mitten crab season, or will they have to wait another year?

At first the Covid situation in the West was roughly two months behind China. But, as the Wuhan pool party shows, the Chinese experience has now diverged from that of Western countries. China began lifting lockdown in April. Cinemas were among the last public spaces to reopen, after museums, theatres, even Disneyland. After much complaining by the public (one executive from a big movie company jumped out of a window and killed himself), the government finally allowed them to reopen with strict social distancing rules. The first time I used my health code (a barcode that can be downloaded on your smartphone: 'green' means Covid-free, 'red' means immediate hospitalisation, 'yellow' means self-quarantine at home) was when I went to see Tenet at the cinema. I'd managed to dodge using this code for a long time, even when visiting hospitals (ID required) or checking in to hotels (ID and facial scan required). At the cinema, the seats around me were taped so no one could sit down, and masks had to be worn during the whole movie, which meant no popcorn or chicken wings. I'd think twice before going again.
During the most intense months of the pandemic, when New York was the epicenter of the world-wide disaster, I took a number of solitary walks through the deserted city. I let myself be guided by two maps produced by the city government that were updated daily on its website. One shows the case rate per one-hundred-thousand residents in each zip code; the other shows the death rate.

The first of the maps [at left] represents the case rate per capita by postal district in shades of rose and purple. The paler zones have lowest concentration of cases. It's easy to see that these areas correspond to the New York that most visitors get to know, the New York most often represented in the arts and featured in the media. This includes almost all of Manhattan—except East Harlem and the mainly Hispanic neighborhood of Washington Heights. A pale rose band spreads across the East River along the edge of Queens and central Brooklyn. A few other pale pink islands of health appear here and there, especially towards the northeast, where the city fades into the Long Island suburbs.

As for the high case-rate per capita regions, they are unsurprisingly concentrated on the margins. From the northern Bronx, a blackening purple spreads from the banks of the Hudson, down and across the Harlem River to where the borough borders the Long Island Sound, the deep branch of the ocean that turns into what we call the East River but is actually a body of salt water. Across Flushing Bay, which separates the Bronx from Queens, there's an intensely dark zone which includes Rikers Island (site of the prison complex) and the extremely diverse but mostly Hispanic and Black neighborhoods of East Elmhurst, Jackson Heights, and Corona, Queens. Darkness grows going down the map as we approach the long, narrow island of the Rockaways, from where one can easily get to other purple spots in southern Brooklyn, around Jamaica Bay and Coney Island. As for Staten Island, high contagion zones appear along parts of the eastern coast and the Kill Van Kull, the narrow tidal straight that separates New Jersey from New York.
---
Thanks!
Thanks for taking the time to read this, I will be back next soon! In the meantime, you can follow me on Twitter or reach out via email.